As a travel agent, you already deal with a lot of questions from your clients. Use and share the resources below to easily answer your clients' questions about going through security.
Liquids, Aerosols and Gels (LAGs) Bags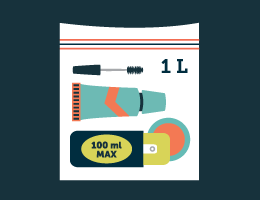 Printable Infographics to Provide to your Clients
---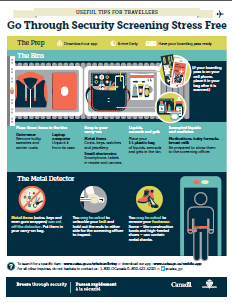 2) Go Through Security Screening Stress-Free 
A  downloadable and printable infographic (PDF) that describes:
How to be prepare yourself before heading to security screening
What goes in the bins at the checkpoint
What items might set off the alarm at the walk-through metal detector
Download PDF  (171 Kb)
---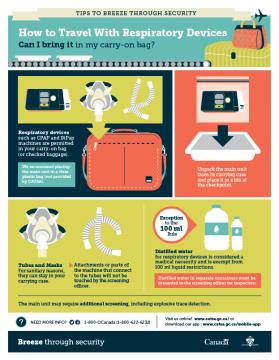 3) How to Travel With Respiratory Devices
A downloadable and printable infographic (PDF) that describes:
How to pack respiratory devices before heading to security screening
How to keep respiratory devices and their attachments sterile during screening
How to travel with distilled water for use with your device
Download PDF  (810 Kb)
---
CATSA shut down its mobile app
Effective March 29, 2023, CATSA's mobile app was permanently shut down. This decision follows a value assessment of the product, which revealed user preference for our responsive website.
Travellers can still access the same travel information through our website to:
Check wait times at security screening checkpoints in major Canadian airports.
Search if an item belongs in carry-on baggage or in checked baggage.
Find information for families and passengers with special needs to help them get through airport security screening quickly and easily.
Create a travel checklist to help pack a carry-on bag or a checked bag. Find out about security restrictions on various items.
Provide feedback about your experience at security screening.
Access CATSA's social media accounts, including Twitter, where users can tweet CATSA directly with their questions.