Winter is a busy time of the year for air travel. Fortunately, there are some things you can do to make your security-screening process easier and faster. One of these  travellers knows what to do. Read on and you can too!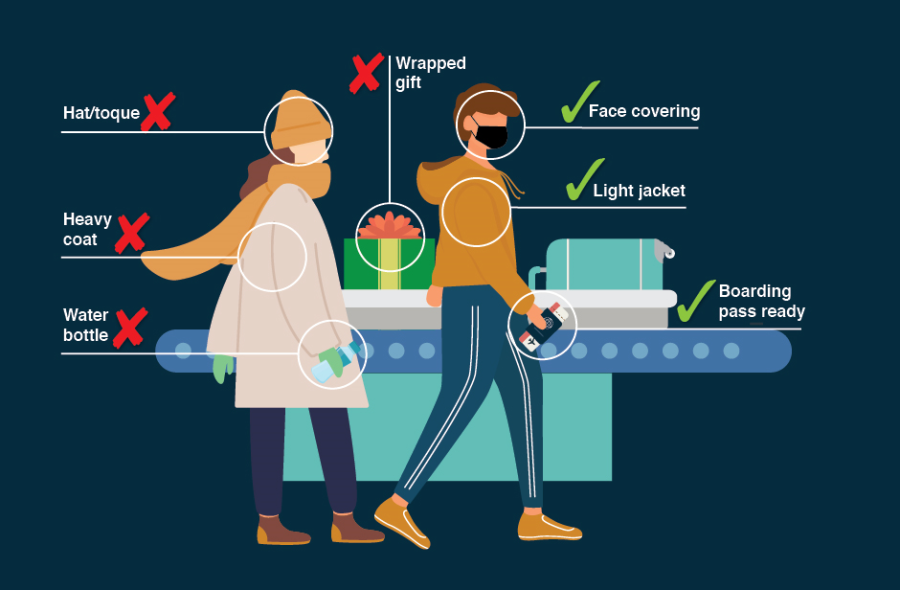 COVID-19 measures
Measures have been taken at the checkpoint in response to COVID-19. All passengers must wear a face covering to go through screening. Starting at the entrance to the checkpoint and throughout the screening process, we ask that you allow two metres between yourself and other passengers. If you exhibit known COVID-19 symptoms such as a cough or difficulty breathing, you will be required to leave the checkpoint and return to the public area. Temperature screening is being conducted at Canada's 15 busiest airports. You will not be permitted to proceed to the screening checkpoint if your temperature, after two separate tests, is at or above 38 degrees. See our COVID-19 response page for more details.
Outerwear
Light jackets and sweaters can stay on, but bulky outerwear has to come off before going through screening. That includes toques, but don't worry – your hair looks awesome.
Wrapped gifts
If you're travelling with gifts, leave them unwrapped in case screening officers need to take a peek. Some airports offer gift-wrapping services after security during the holidays with proceeds going to charity.
Liquids, aerosols and gels
All liquids, aerosols and gels must be in containers of 100 ml or less and fit comfortably in a single clear, resealable 1-litre bag. Pro tip: Savvy travellers bring an empty, reusable water bottle  to fill up past security.
Be prepared
You can easily save yourself, and everyone else, a bit of time by having your boarding pass ready for inspection when you get to the checkpoint.
Know before you go
There's no such thing as being over-prepared.